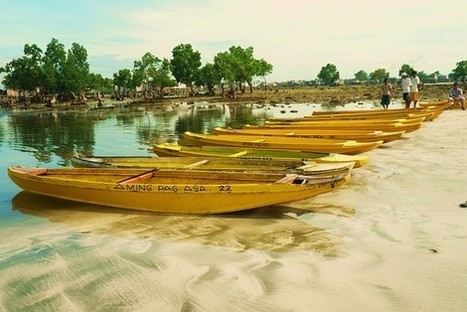 The Yellow Boat of Hope Foundation provides school boats to coastal communities in the Philippines so children can get to school. Now it's helping the thousands of fishermen whose boats were damaged by Typhoon Haiyan.
http://blogs.wsj.com/searealtime/2014/03/09/boatloads-of-hope-for-the-philippines/
On March 27, 2011, Mr. Jaboneta, Mr. Lim and 16 volunteers formally turned the 20-seater boat, "New Hope," over to the community.
"With the yellow boat delivering them safely to school, they can focus on their studies," said Mr. Lim. "To these kids, the school is the only way out of poverty."
Now, nearly three years later, there are now 30 Yellow Boat communities and more than 830 boats nationwide.
Courtesy of Yellow Boat of Hope FoundationFisherman Jimmy Palagar of Basey, Samar, who lost his fishing boat to Typhoon Haiyan. He is currently using a refrigerator as a replacement.
The boats, which are uniformly painted yellow, are used not only to transport kids who would have to swim their way to school without them, but also help support their families.
When the children are in school, men in the community use them to plant and harvest seaweed, while women use the smaller boats to collect water.
For the fishing communities impacted by Typhoon Haiyan, the foundation is providing as many as 400 motorized and self-paddle boats, as well as boat-building materials.
Thousands more boats are needed
http://blogs.wsj.com/searealtime/2014/02/23/a-goal-to-lift-all-ships-in-the-philippines/