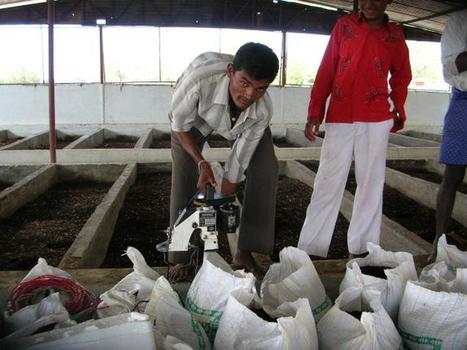 A group of farmers from different villages were selected and given training (#technology Farmers can save and earn more through vermi technology http://t.co/kMsk4HtB...)...
"And today with the cost of fertilizers hitting the roof it will be advisable if farmers can effectively use these wastes to make some sort of manure like vermicompost and put it back to the soil. By doing so expenses can be reduced and soil fertility be upgraded,"
"Also the income obtained from such activity can be reinvested by the farmer in enhancing his farm resources and infrastructure for higherreturn. He can go for crop diversification and better income," says Dr. Kantharaju.
"For farmers, seeing is believing. When they heard about other farmers doing well in this line, they started visiting our KVK office and expressed willingness to try the same.
"Today we have been able to help such farmers in setting up their own small vermicomposting units and manufacture their own inputs," says Dr. Kantharaju.
Via
Bert Guevara