Scoop.it!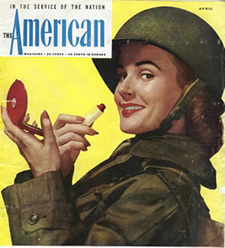 Jazarae Kelsey's insight:
Women during World War II had many roles.Volunteering is a women's strong suit and WWII proved it. Women offered to be Nurses and Military assistants. Everyone wasn't overseas. Some women stayed in the U.S. to help. For example the Red Cross would have some women at home making care packages, while others were overseas in Club-mobiles. Club-mobiles are like food trucks but for army men.Military assistants were apart of different organizations. Like WASPs,WAVES,and SPARS. Women weren't drafted because actual fighting wasn't allowed due to the Pentagon Act of 1944. Nurses were a huge help during this time. According to the former first lady Eleanor Roosevelt over 100,000 of the 242,500 were volunteers. 64% were nurses from hospitals and institutions.
Women are busting out of the kitchen. Today in our society equality is becoming a must between women and men.During WWII women weren't as concerned with fighting, just making sure they helped so the troops could come home.Jan 2103 the Pentagon Act of 1944 was repealed. Which means women can now fight right along with men and also hold high rank positions in the military.According to the Denver Post 14,000 combat positions were given to women but 200,000 positions were denied to women.President Obama told the Denver Post that he was was trying to make a "Smooth transition" with military equality. Women after World War II broke out into a "baby boomer" era but now women are wanting to join the war permanent.