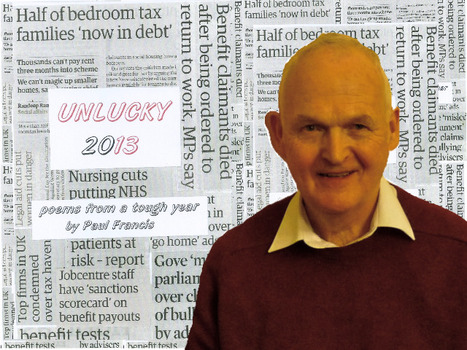 Shropshire poet Paul Frances launched his latest collection
Unlucky 2013 - poems from a tough year
with a reading at the Priory Hall in Much Wenlock on Friday 24th January. Paul said these poems were, "an angry indictment of what has been done to our society over the last twelve months. It is not easy to see what might be done but it is vital we know what has happened, if we plan to be involved in helping to put it right".
Them
You're rational. You'll hear our arguments
and question the statistics we provide;
bankers and taxes, economic stuff
and quite right too. Democracy. Your call.
But them? They'll never see things as a whole.
They need the tasty titbits, loud and clear.
Tell them the simple stories that make sense,
like these: ...The other party spent it all...
...foreigners sponging off the NHS...
...He said he was disabled, but he lied.
It's not what's true. It's what they need to hear.
They want aggressive leadership, talking tough,
doing the things which keep them bitter. Bless.
We keep them happy, and we keep control.
Paul Francis has a website at www.paulfranciswrites.co.uk
which gives detils of his previous writing and current publications. It also includes his blog comments, in paulemic.
Copies can be obtained for £3.00 from Libert Books, Much Wenlock TF13 6JQ francisliberty@btinternet.com
Via
Wenlock Edge