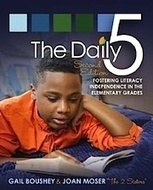 Review of "The Daily 5: Fostering Literacy Independence in the Middle Grades" by Gail Boushey and Joann Moser. Reviewed by Linda Biondi
"The Daily Five (highlighted at the authors' website) was created from literacy classroom experiences and motivational research by Gail Boushey and Joan Moser, affectionately called "The Two Sisters" (which they are). Simply put, it is a series of five daily literacy tasks that students complete as the teacher meets and confers with small groups or individuals.
The 5 components are:
Read to Self (reading self selected materials independently)
Read to someone (reading aloud with a partner while practicing strategies and fluency)
Listen to Reading (hearing good models of fluent reading)
Work on writing (practicing writing fluency)
Word Work (phonics and spelling/vocabulary practice)"