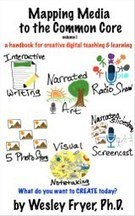 by Wesley Freyer
"Interactive digital writing involves the production and sharing of electronic texts which (in most cases) can be readily:
Conveyed (transmitted)
Copied
Connected (hyperlinked)
Commented on, and
Collaboratively constructed
Every classroom teacher should have and use a moderated, interactive class blog. It should:
Permit students to submit posts to the blog
Be openly accessible online (not require a password to view)
Permit visitors to submit comments which can be moderated
In addition to blogs, students can interactively write using free tools like Google Docs and Etherpad."
Jim Lerman's insight:
Lots of excellent resources here. Freyer is a masterful advocate for seamless integration of tech into instruction.