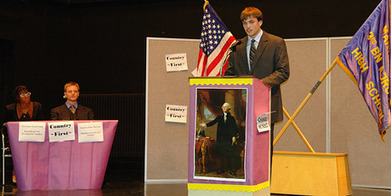 By Ashley Prophet
"Organized debates are an engaging way to help students discover, explore and organize ideas during the writing process. However, neither my teacher colleagues nor students share my enthusiasm. To find out why, I asked how they felt about using debate in the classroom. Here were their responses:
Teachers' answers:
Students are too aggressive and rowdy to debate.There is no time for preparation.I don't know how to incorporate debates into the curriculum.
Students' answers:
Debates are tedious and repetitive.My opinions are never appreciated.Debates are pointless.
"Rethinking classroom debating might help both the aforementioned groups view this strategy as valuable.
"Debate activities do not have to mirror the traditional debate protocol, where students stand on opposite sides of the classroom and formally argue about a particular point -- an exercise that students and teachers may find to be tedious. A more casual format can be far more engaging, like the ones below that are specifically tailored to support students during each stage of the writing process. The procedures are simple to explain and allow for students' opinions to be valued."