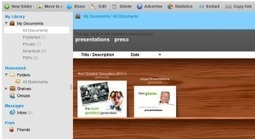 Author identified only as Glenn W.
"Publishing student projects online in visually stimulating formats is now easier than ever. There are tons of tools available that you and your kids can use to get stuff out there.
"The following web 2.0 tools are some of my favorites for showcasing student projects. The list includes two different kinds of sites. The first type requires that kids create work using a desktop tool such as Word, Keynote or Pages and then the site converts that work into online content. The second lets kids doing the actual creating online."
Via
JoelleYalin
,
Jim Lerman