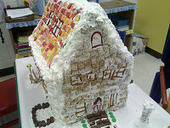 Students in Mrs. Murawski's kindergarten class at Magruder Elementary School knew that their work mattered. One reason they fully committed themselves to carefully designing and constructing the gingerbread house was because they are donating the house to a local senior citizen's home to bring joy during this holiday season.
At the start of the construction project, Mrs. Murawski convened her students for a design team meeting. Each student chose to serve on a committee which planned one aspect of the job. For example, the landscaping committee planned the layout and creation of the yard while the roof committee developed ideas for the top of the house.
These five year old children learned a lot about team work. Mrs. Murawski commented that one of the biggest challenge for students was "working with a committee of students, making decisions together and realizing that you have to compromise. As they came together with their research information and began to share the ideas with each other they realized that they may indeed like what they saw in their classmate's research booklet."