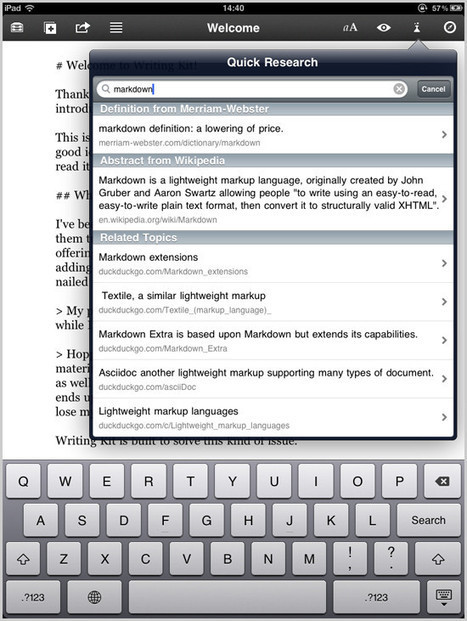 Writing Kit's approach is to make an app that combines a disparate set of capabilities into a single product. There's a built-in browser and scratch pad for research and notes. It uses Markdown (with custom toolbars and a previewer to help editing). It integrates with Dropbox and TextExpander (Quang Do calls these "the 'standard requirements' of new writing apps") along with a who's who of services beloved by a certain kind of writer (Delicious, Pinboard, OmniFocus, Instapaper, to name a few).
"Writing Kit has all these tools, because I believe users already have their own workflow and wish to find an app that integrates their workflow into the writing task," Quang Do says. "It is so that you can 'unitask': Focus on your writing, and nothing else."
(((.w.)))
iPad's lack of multi-tasking, saying that it was a focus machine ...
http://tomorrowmuseum.com/?p=1516
**
Enter Writing Kit by developer Anh Quang Do:
http://getwritingkit.com/
Via
Heiko Idensen