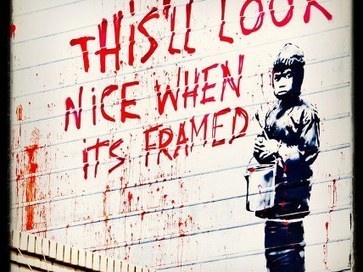 It's more than an act of crime or commerce
To be a brand name in guerrilla street art is to be in exclusive company. And no one has built a bigger brand imposing his stencils, spray paintings, and sculptures on the world than Banksy. His latest installation, a scattershot, month-long spree of works called "Better Out Than In," proved that to anyone who pays attention to New York City. Every day, across the five boroughs, the secretive artist debuted a fresh piece in a new location, spawning excited Instagrams, an interactive street map, and, yes, grumbling critique: not just from nannyesque Bloombergians, but the kinds of property rights advocates who sometimes cross swords with the Mayor. That is art Banksy style: sticking it to the man, and maybe to you too.
Apart or together, his compositions aren't hard to interpret—meditations on the hypocrisies and opportunities of city life. But inseparable from the art is the nuanced question of how we, the audience, can choose to respond. Here Banksy offers little guidance. He seems fully content to let critics decry him as a criminal, or worse, as a crass commercialist.
From a certain angle, however, we don't get much access to the Banksy phenomenon by confidently consigning what he creates to the realms of rights violations or market valuations. Just as we hesitate to separate ourselves from his art, we might not abstract it away from the public and private space it appears in.
If we don't separate the art from its space, we heighten our awareness of how a few impressive features define his ambiguous installation. First, Banksy really has taken street art to another level. It's not just that he's tossed some sculpture into the mix of sprayed-on illustrations. It's that he's gone beyond the standard of a focused, coherent body of work that the best street artists refine. Banksy has actually curated a collection of artworks, not just in real time but in real space. He's become his own museum.
But a museum doesn't have to be identical to the building it's in, as the Getty, for instance, arguably is. October's "Banksy Museum" is housed in a...