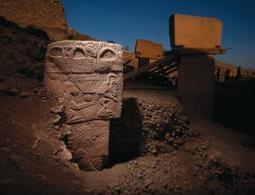 Pillars at Göbekli Tepe in southern Turkey seem to align with the rising of Sirius, hinting that the bright star may have triggered a frenzy of religious
THE world's oldest temple, Göbekli Tepe in southern Turkey, may have been built to worship the dog star, Sirius.
The 11,000-year-old site consists of a series of at least 20 circular enclosures, although only a few have been uncovered since excavations began in the mid-1990s. Each one is surrounded by a ring of huge, T-shaped stone pillars, some of which are decorated with carvings of fierce animals. Two more megaliths stand parallel to each other at the centre of each ring...