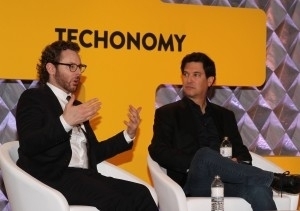 At the recent Techonomy conference, Sean Parker of Founders Fund and Jim Breyer of Accel Partners discussed how the world will be different three to five years from now.
Here are a couple of highlights that might be of interest to readers of "Working Differently in Extension."
Jim "Breyer gave evidence—from social-network-enabled crime fighting in Brazil's favelas, to global skilled-laborer jobs training, to the 100,000 students in Stanford's online machine learning class—of the expanding trend for governments, universities, and businesses to bring social media to bear on social progress.
His firm has already backed higher-education distance-learning companies in China and India, and is looking at others in Brazil."
>>>>>
"He's also seeking ways for US professors and teachers to reach tens if not hundreds of thousands of students to build the skilled workforce the nation needs. "There's absolutely no doubt in the next 5-7 years…the Stanfords, the Harvards, the MITs, as well as many other great US research universities, will be disseminating important content online at a fraction of what it costs students today to go to Cambridge or Palo Alto or other physical campuses," Breyer said."
>>>>>
"In fact, the "craft model" of self-employment in the arts is emerging off the radar of the national jobs policy conversation, Breyer said. He's meeting college students who are deciding not to go to [work at] Facebook or Google, but to start their own craft- or social-oriented businesses that reach customers through nontraditional means, enabled by services like Square, Etsy, and AirBnB. "We're seeing an explosion in that kind of employment. People are working from home or in small offices. It's happening in the U.S. as well as China and Brazil and many emerging markets in a much more profound way than people think," Breyer said."