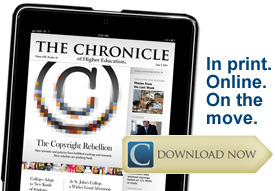 This story provides some highlights of a meeting of chancellors, presidents, provosts, and deans assembled for the annual meeting of the Association of Public and Land-Grant Universities.
The quotes in the story reflect two distinct ways higher education leaders are responding to the disruption (budget cuts, rising tuition, student loan bubble, etc.) in higher ed.
Some, like Ric Porreca, senior vice chancellor and chief financial officer of the University of Colorado at Boulder, seem to be looking for new solutions. Speaking at a session on economic transformation and public universities, he said, "I believe we are at fork in the road right now," and posed the question: "Are we serious about new models?"
Others are responding with "stay the course." Kim A. Wilcox, provost of Michigan State University, said working within the existing system is precisely what helped his institution cope with a sustained economic crisis.