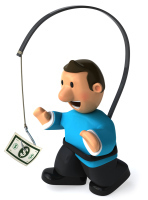 Here's a post about motivation that challenges our assumption that external factors like money are good motivators.
Daniel Pink examined the science of motivation in his book, "Drive," and concluded that external motivators are not very effective. Here's a cool RSA Animate video featuring Daniel Pink talking about what motivates us, http://youtu.be/u6XAPnuFjJc
From the article linked above:
"3 ways to enhance motivation
Fowler suggests beginning by evaluating the quality of A-R-C in your life. Looking back at over 40 years of motivation research, Fowler shared that the answer to creating a more motivating environment is a combination of increased Autonomy (control of your experiences),Relatedness (working together with others), and Competence (developing and refining new skills). The good news is that anyone can change their motivational outlook with some self-awareness and self-regulation."