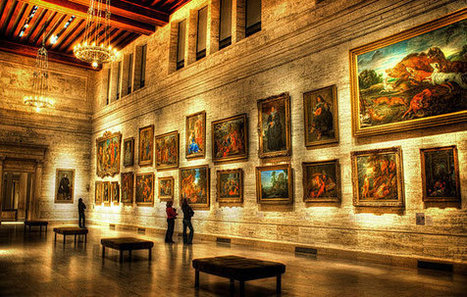 1.Manage your attention, not just your time: Don't just create a to-do list; lay it out on daily and weekly schedules, breaking down key tasks of the project into chunks. Consider the level of concentration and focus that each type of task or chunk requires and schedule accordingly. For example, if I have to do some writing that requires a higher level of attention for me than does scanning Twitter or reading and responding to email, I schedule my writing time during peak concentration hours in the day. I also use a timer when I'm scanning my networks and limit those activities to 15-20 minute bursts.
2. Visualize on paper: Over the past 10 months, I've made a return to paper and markers and using mind maps or visualization techniques to reflect and to plan my week or day. I use this as a pre-writing exercise as well as a reflection exercise. It's a way to cope with getting "content fried."
3. Establish rituals: Rituals in your work life are valuable. A mind map offers a lot of good suggestions for rituals, from decluttering your workspace to healthy habits like sleep and exercise.
4. Reflection: Reflection doesn't have to take up a large amount of time to be effective. I take 10 minutes every morning to practice some visual recording skills like drawing to create my "3 Most Important Things for Today List." At the end of the day, I look at it, reflect on what I did and plan for tomorrow.
5. Managing email and other distractions: I try to avoid email first thing in the morning. And I've turned off notifications that pop up on my computer screen or send me a text message to my mobile phone.
6. Managing physical space: When I see clutter in my physical work spaces, I try to take that as a sign that I need to hit a pause button. Usually it is because I'm doing too much.
7. Just say no: Maybe you are going to say no to social media for a day and go to meet with people, take a class, read a book or take a walk. When I'm feeling most overwhelmed, I take a break. At least get up from your desk!