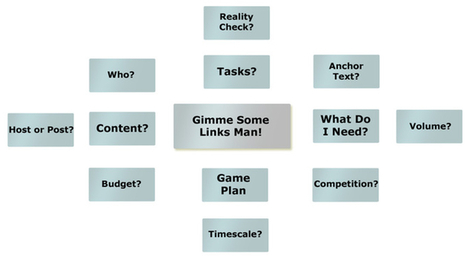 [From article intro]
Often when client arrives in need of links, it can be fairly daunting trying to figure out how the heck you're going to get the link juice you need. Coming up with a structured plan that works is something I've been trying to improve over the last year or so, and I'm pretty sure it's something I'll be refining for many years to come. At the start of every campaign I'm involved with, I try to sit down and thrash out a load of ideas in an effort to come up with a link-building 'road map' to follow for the coming months.
I find having a solid plan useful in two ways. Firstly, for the client, I think it's really good for them to understand what you are doing with the time they are paying for. In my experience, it really helps to sit down with them and say I'm going to be doing this much of 'x' and this much of 'y' because of 'a, b, and c.'
Secondly, having a clear plan to follow is brilliant for me. Having a clear set of tasks allows me to manage my time much more effectively and ensures that I don't fall behind on anything.
Here are some of the things I like to think about when coming up with a game plan...
[read full article http://j.mp/sZ2pF5]
Via
Giuseppe Mauriello