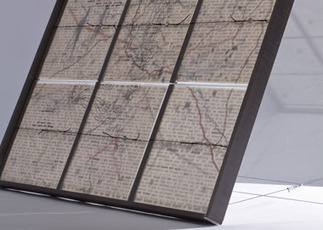 "When we meet up to talk poetry, he has to go back out to the car a second time to bring in his new "book." The thing is wrapped in a throw rug. It takes both of us to set it up, and it takes up a good portion of the table, standing up easel-like." Hm, doesn't sound like any poem I know. But yet that's how James Heflin of The Valley Advocate describes the most recent work of his friend, poet, artist, and editor Chris Janke in his "Art in Paradise" column.
It's called of the of of the of. Yes, you read that right (and you'll probably need to read it again). Rethinking and reconstructing the traditional form of a poem both literally and figuratively, Janke refers to it as an "art book". It is in fact a book of nine books, formatted into a linear board of illusory, transparent line drawings matched with seemingly unconnected text. At the bottom of the six-by-six-inch, marginless page, you'll find the parts that most resemble conventional poetry, without line breaks, a blur of unpunctuated, colliding words from the jargon of philosophers and neuroscientists. And that's just where you start.
Then you move on to the "interpretive" layers that respond to the words, with explanatory names tacked on: "big bang layer", "flight map layer", "map of spain layer", that are accompanied by visual elements that, though fragmented, form a larger whole in the full display of the nine books. In various, inexplicable ways these "Visual elements, too, come into play, subway maps and hybrid creations like a tracing of every occurrence of the word "of," with each "of" representing a high point in a topographical map," details Heflin. As the reader opens and interacts with the books, new interpretations reinvent the meaning of the text and the relationships between the transparent layering.
After an elusory attempt at determining how to publish of the of of the of, Janke set to work constructing 20 copies of his "book", two of which are currenly on display. His newer work somehow combines poetry based on place, and "a literal framing of portions of the environment via hanging plexiglass" and is set to be completed in 2013.
*If you still have no idea what I mean by all this, check out the images and explanations on Janke's website: http://www.christopherjanke.com