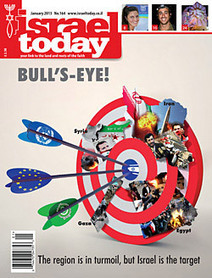 Two years after terrorist stabbing that killed American Christian friend Kristine Luken, Kay Wilson continues to be a focus of media attention
Many Israelis have suffered violence, and there are few in the country who have not been touched, either directly or indirectly, by the phenomenon of Palestinian terrorism.
Most terror attack elicit anger and sorrow, but are rather quickly forgotten. One of the attacks that continues to make headlines years after it occurred is the 2010 stabbing of Messianic Israeli tour guide Kay Wilson and her visiting Christian friend, Kristine Luken.
Most of our readers are already familiar with the story, but here is a quick recap for those who aren't:
Kristine Luken, who worked in Messianic ministry, came to Israel to visit Wilson and other friends in December 2010. On December 18, Wilson and Luken went for a hike through the picturesque hills south of Jerusalem. While hiking they came across two Palestinian Arab men who bound, stabbed and left both women for dead. Luken did indeed die of her wounds, but Wilson, despite being stabbed 17 times, survived the attack and was able to drag herself to a nearby public park and call for help.