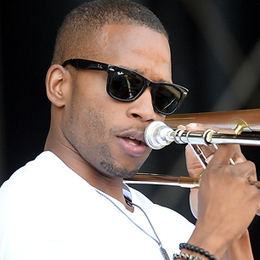 'My cousin told me I wouldn't be able to pull it off,' he says.
Growing up in New Orleans, Troy "Trombone Shorty" Andrews always wanted to be a part of the Meters, the city's pioneering funk band. So when he reunited the collective for his new album, Say That to Say This, it was a historic moment for him and the Crescent City – but an idea that needed a lot of convincing.
"[My cousin] told me I wouldn't be able to pull it off because they haven't gotten together in 30-something years," Shorty tells Rolling Stone. "I called each member, and each one had a little moment of silence when I told them what my idea was. At that moment, I was iffy about whether it was going to work out or not."
The original Meters line-up of Art and Cyril Neville, Ziggy Modeliste and George Porter Jr. hadn't recorded in the studio together since 1977's New Directions. On Shorty's new record, they contributed to an updated version of a song off that album, "Be My Lady." Shorty's revamped version sounds similar, though it's far more succinct.
Although this mini-Meters reunion was for another artist, they fell back into their old routine rather easily. "You never know [what will happen] when you go into a room with players after being away from recording," Meters' bassist George Porter Jr. says. "From where I was setting it was like we had never stopped doing this. After all, these guys are pros. There was no mystery what we were there to do and everyone came to give Troy what he needed and wanted and that was what happened."