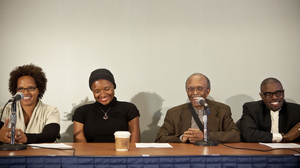 by PATRICK JARENWATTANANON
EnlargeChristopher Parks/NPR
From left to right, the panel included Terri Lyne Carrington, Lizz Wright, Jimmy Heath and Antonio Hart.
Every year, the Congressional Black Caucus Foundation throws a concert and panel discussion as part of its annual conference. It's notable not only as a musical event — this year's show features drummer Terri Lyne Carrington's take on the classic album Money Jungle, featuring vocalist Lizz Wright, as well as alto saxophonist Antonio Hart's quintet with special guest Jimmy Heath — but also as a cultural one. In this century, anyway, it's become surprisingly uncommon to see documentation of black jazz artists performing for primarily black audiences.