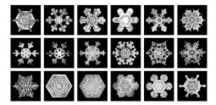 how does anything complicated get produced in nature? I mean, when we look at the natural world, it's full of complex forms and complex behavior. It's not just circles and squares and repetitive motion. But where does all this complexity come from? What's its fundamental origin?Well, if one wants to ask a fundamental question like that about nature, it's been sort of a defining feature of the exact sciences for perhaps 300 years that one should use mathematics and mathematical equations. Because, to use Galileo's words, the book of nature "is written in the language of mathematics."
Well, that's an idea that really transformed science 300 years ago. And it certainly worked well for Newton and friends in figuring out the orbits of comets--and for lots and lots of things since then.
But somehow for the more complex things one sees in nature, it's never worked out very well. And what I think is that really one needs a new paradigm--a new kind of science.