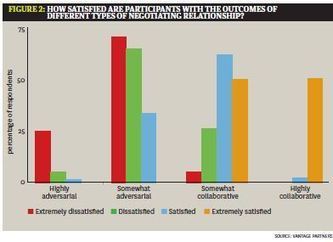 Why are purchasers and suppliers so often disappointed by the results of strategic sourcing, and how can they stop the value leaking out of hard-won contracts?.....
Collaborative Approach
Procurement organisations that employed a collaborative (versus an adversarial) approach to negotiations reported greater satisfaction with their negotiated agreements and the value realised from those agreements. Of the top 10 per cent of buy-side study participants in terms of self-reported value realised during contract implementation, 63 percent described their negotiations as "highly" or "somewhat" collaborative.
Those employing a collaborative negotiation approach reported more positive working relations with suppliers, fewer unexpected problems during contract implementation, and a far greater ability to work through problems. Figure 2 shows the correlation between how study participants characterised the nature of negotiations with their suppliers and their subjective level of satisfaction with value delivered by suppliers for the contract.
Interviews with high performers revealed an ability to negotiate assertively and collaboratively (both in the sense of treating individual counterparts with a high degree of respect and seeking mutually beneficial solutions) at the same time. Average and low-performers overwhelmingly perceive a debilitating zero-sum trade-off between assertiveness and being collaborative. Similarly, top-performing procurement organisations balance the use of competitive sourcing and bidding with negotiation strategies and approaches that are highly collaborative (focused on fair and sustainable outcomes for both sides and with an emphasis on joint development of creative and mutually beneficial solutions.)....
Via
Ricard Lloria