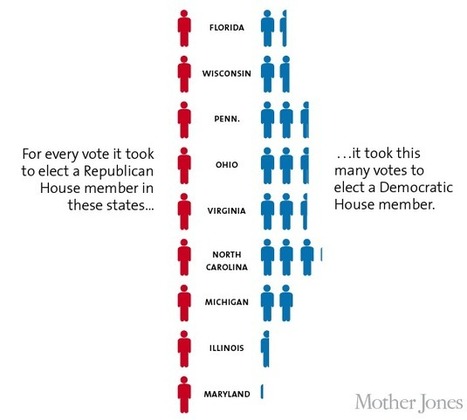 Americans didn't intend to elect a Republican majority to the House of Representatives. Thanks to GOP-engineered redistricting, they did.
by Adam Serwer and Jaeah Lee, Mother Jones
Americans woke up on November 7th having elected a Democratic president, expanded the Democratic majority in the Senate, and preserved the Republican majority in the House.
That's not what they voted for, though. Most Americans voted for Democratic representation in the House. The votes are still being counted, but as of now it looks as if Democrats have a slight edge in the popular vote for House seats, 49%-48.2%, according to an analysis by the Washington Post. Still, as the Post's Aaron Blake notes, the 233-195 seat majority the GOP will likely end up with represents the GOP's "second-biggest House majority in 60 years and their third-biggest since the Great Depression."

So how did Republicans keep their House majority despite more Americans voting for the other party—something that has only happened three times in the last hundred years, according to political analyst Richard Winger? Because they drew the lines.

After Republicans swept into power in state legislatures in 2010, the GOP gerrymandered key states, redrawing House district boundaries to favor Republicans. In Pennsylvania, Democratic candidates received half of the votes in House contests, but Republicans will claim about three quarters of the congressional seats. The same is true in North Carolina. More than half the voters in that state voted for Democratic representation, yet Republicans will fill about 70 percent of the seats. Democrats drew more votes in Michigan than Republicans, but they'll take only 5 out of the state's 14 congressional seats. [MORE]
Via
Eric Byler