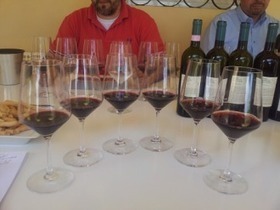 Chaos 2005 - Marche Igt - Fattoria le Terrazze - Rating 89 - 20 euros
The blend of this wine changes depending on the year and in this case no Syrah was added, making it an almost equal mix between Montepulciano and Merlot. Like all of this estate's wine, this needed a little time before revealing its lovely dark color and even darker reflections. The mouthfeel was, as usual, sumptuous and expressive with the Montepulciano dominating with its boldness and highlighted by spicy returns, above all black pepper. The aroma has some nice ripe fruit.
Chaos 2004 - Marche Igt - Fattoria le Terrazze - Rating 83 - 23 euros
Wood plays an important role for this vintage and it is not totally 'digested' and perhaps never will be. Still it is a nice wine with a vegetal imprint in its aroma, while the flavor has wild accents and good tannins that in part still need to be rounded off. I would not call this an unforgettable year.
Chaos 2001 - Marche Igt - Fattoria le Terrazze - Rating 90 -
The wine made a comeback with this vintage despite some problems with the cork. The mouthfeel has an almost frightening elegance and drinkability and is, at the same time, sweet, soft and spicy. The bouquet is intriguing, almost spicy with all its components in the right place. The use of wood was most skillful, making it a wine to drink and then drink some more.
Chaos 2000 - Marche Igt - Fattoria le Terrazze - Rating 88 - 30 euros
This was the darkest of the lot and was particularly strange, I'd go so far as to say it was green. In this vintage the Montepulciano plays a lesser role, making it not as meaty nor dense and creating a wine more slender than usual. This may add to its drinkability but it is not the Chaos we are used to and prefer. Let's just say it has its' own story to tell.
Chaos 1997 - Marche Igt - Fattoria le Terrazze - Rating 91 - 20 euros
Antonio Terni allowed us to taste the first vintage he produced. It was a year generally considered to be 'important' and this bottle confirmed this by being still in fine form, very bold, quite peppery and with an award-winning, elegant persistence with tannins that were still a bit hard. The aroma changed minute by minute demonstrating a truly broad spectrum. Wonderful.
Vision of J 2004 - Conero Docg Riserva - Fattoria le Terrazze - Rating 91 - 35 euros [...]

Vision of J 2001 - Rosso Conero Doc - Fattoria le Terrazze - Rating 89 - 50 euros [...]

Vision of J 1997 - Rosso Conero Doc - Fattoria le Terrazze - Rating 96 [...]