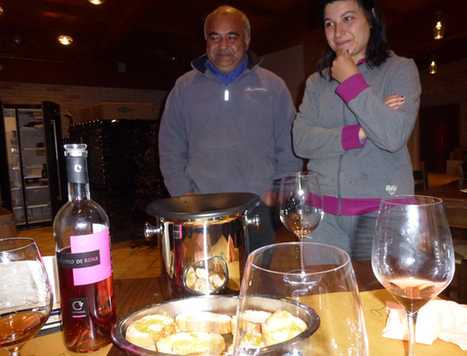 Situated in the hills just to the west of the town of Montefiore dell'Aso in the province of Ascoli Piceno in the region of Le Marche is the Azienda Agricola Biologica Centanni. Owned and run by Giacomo Centanni and his family, the Centanni winery produces approximately 110,000 bottles of wine/year using only grapes grown on Centanni's 32 hectares of hillside organic vineyards. As the title states in Italian, Centanni is a family owned winery whose products reflect the dedication and winemaking skill of the Centanni family.

Due to the late hour of our arrival, our tour of the winery was very brief. Senora Elisa Centanni, daughter of the owner, was our very knowledgeable hostess and tasting guide. She quickly showed us around the newly remodeled winery and ended the tour in the well equipped tasting room.
Centanni's products include red, white and rosé wines. They are the first winery in Le Marche to use the "tappo in vetro", literally the stopper in the glass, a unique replacement for the traditional cork which easily reseals the bottle if desired. In my brief exposure to this device, I was very impressed.

The first white wine offered for tasting was a 2011 Il Borgo Falerio DOC. Il Borgo is a 13% alcohol blend of 50% Trebbiano, 25% Passerina and 25% Pecorino. After the grapes are harvested by hand, they are soft pressed followed by an immediate drop in temperature via carbon dioxide to preserve the integrity of the fruit. Next is static decantation of the must and fermentation at low temperature. The color of the Il Borgo was a pale straw yellow, the nose light and fruity and the taste smooth and pleasant. It should be served at 10-12°C. I rated this wine an 86.

Our second white wine was a 2011 Passerina DOCG. This 100% Passerina wine is produced from hand picked grapes grown on rocky ground. After picking, the must is separated from the skins and cleaned without use of additional oxygen in order to preserve the grape aromas. Fermentation at 10°C follows for thirty days. When fermentation is completed, the wine is aged in stainless steel tanks for four months, filtered and bottled. The Passerina was a straw color, had a very fruity nose and a short and fruity taste. I did not rate it.

Third in the tasting was another white, a 2011 Pecorino DOCG. This 100% Pecorino wine shares the same fermentation details as the Il Borgo, but that is about all it shares. The wine was straw yellow in color, had light, subtle and slightly fruity bouquet and an elegant, long finish. This was an excellent white wine and I rated it a 90.