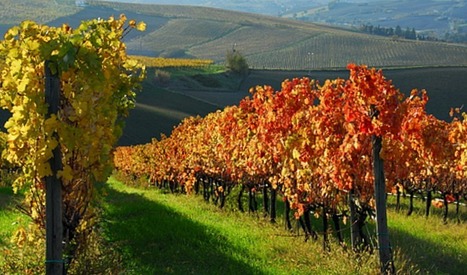 Verdicchio part 1 - in the laboratory
Verdicchio. You've heard the name before? No, not ringing any bells? How about this: green amphora-shaped bottle with a scroll tied around the neck? Bingo! This is the spritzy, gluggable and cheaply priced white that has met with such huge commercial success in the international markets since the 1970s. Few, however, know that there is a much more serious side to Verdicchio than this conveyor-belt version would have it. Among Italy's cognoscenti, the white grape's superiority is based on its fabled capacity to age, something that is only slowly seeping through to the general wine...
Verdicchio part 2 - Cuprese vertical

Day one of the laboratorio focused on a flight of Colonnara's Cuprese, a varietal wine made using the fruit from the best vineyards in Cupramontana. The flight was not only a memorable tribute to oenologist Carlo Pigini Campanari, whose story is told in Verdicchio part 1 , but especially to Verdicchio because it highlighted the grape variety's indisputable greatness and longevity, aptly demonstrated by the entry-level Cuprese. (This photo of the empties was taken by Valeria Bocchi, the wife of La Distesa owner Corrado Dottori.) The first wine of the flight,...
Verdicchio part 3 - left v right bank

Il Grande Verdicchio, the event that aims to investigate the viability of a vineyard classification within the enormous DOC Verdicchio dei Castelli di Jesi, is not the first to tackle this subject. The initial thrust in these terroir-mapping excercises came from Slow Food and Gambero Rosso when they were still co-publishing the Vini Italia guide. Convinced that Verdicchio has cru qualities, they suggested a division of the DOC, using the river Esino, which cuts the huge DOC neatly in two, and giving the two sides the distinctly...
Read more on http://www.jancisrobinson.com
Curated by http://www.scoop.it/u/mariano-pallottini ;