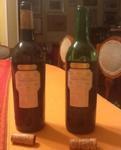 It seems that Marques de Riscal accidentally sent the "wrong" 2004 Gran Reserva for review to Spanish paper El Mundo.
According to my Google translation, they accidentally sent a bottle of the 150 Year Anniversary Reserva 2004 instead. That's quite a mistake as they are effectively two different wines and the switch implied a much better quality.
Oops!
To be fair, they have offered to exchange any bottles of the Gran Reserva that people bought because of the review for the more expensive 150 anniversary reserva. That's a pretty good deal, if you ask me.
Have you seen a review of the 2004 Riscal Reserva anywhere else? I wonder if they were sent an incorrectly labelled bottle too?