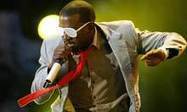 A host of rappers have eschewed their usual upmarket brands and included moscato as the object of their adorations.
At a time when people are concerned about price and the quantity that they drink, Moscato could be primed for the big time.
Personally, I'd recommend the Brown Brothers Moscato, which is available very widely. Go on, try it with a bit of sunshine. Sparkling Moscato was pretty popular down under during the summer, maybe Europe will follow?