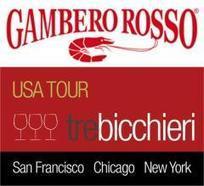 Selection of about 500 creme de la creme wines, every year since 1986, Gambero Rosso publishes its guide to Italian wines and awards its prestigious Tre Bicchieri (three glasses) rating to the best wines. The event like the one we attended has the purpose of showcasing all those best wines, and it attracts a lot of attention.
ABRUZZO
2009 Torre dei Beati Montepulciano d'Abruzzo Cocciapazza – perfect!
ALTO ADIGE
2011 Abbazia di Novacella Alto Adige Valle Isarco Sylvaner Praepositus – outstanding bouquet on the nose, very nice overall
2009 Cantina Tarlano Alto Adige Pinot Blanco Vorberg Riserva – complex, beautiful, perfect minerality, wow!
CAMPANIA
2010 Nanni Cope Sabbie di Sopra il Bosco Terre del Volturno – nice acidity, very good overall. Added bonus – this wine has two rare grapes which I need to add to my grape count – Palagrello and Casavecchia
2010 Marisa Cuomo Casta di Amalfi Furore Bianco Fiorduva
FRIULI VENEZIA GIULIA
2010 Livon Collio Friulano Manditocai – complex nose, nice palate
2011 Ronco dei Tassi Collio Malvasia – nice minerality, very good overall
2011 La Tunella COF Ribolla Gialla Rjgialla – perfect white fruit, clean, excellent
2011 Livio Felluga Friulano – super expressive wine, very good overall
LAZIO
2010 Sergio Mottura Grechetto Latour a Civitella – excellent
LIGURIA
2011 Cantine Lunae Bosoni Colli di Luni Vermentino Cavagnino – mint and apricot on the nose and palate, OMG
LOMBARDY
2009 Mamete Prevostini Valtellina Superiore Riserva – very unusual nose, perfect power.
2004 Ca'Del Bosco Franciacorta Brut Rose Cuvee Annamaria Clementi – 100% Pinot Noir, nose of fresh bread and yeast, strawberries on the palate – OMG
2007 Ricci Curbastro Franciacorta Extra Brut – perfect
NV Ricci Curbastro Franciacorta Brut Rose – more complexity than the previous one, OMG
2006 Ferghettina Franciacorta Extra Brut – 80% Chardonnay, 20% Pinot Noir; wow!
2007 Cavalleri Franciacorta Pas Rose – very bread-y, excellent!
2008 Guido Berlucchi Franciacorta Cellarius Brut – wow!
MARCHE
2010 Umani Ronchi Verdicchio dei Cazstelli di Jesi Classico Superiore Vecchie Vigne – wow!
2009 Umani Ronchi Conero Cumaro Riserva – excellent!
2009 Velenosi Rosso Piceno Superiore Roggio del Filare – roasted, gamey nose, a touch too sweet, but good
PIEDMONT
2009 Bricco del Cucu Dogliani Bricco S. Bernardo – 100% Grechetto, cherries on the nose and palate, very nice!
2008 Le Piane Boca – a blend of 85% Barolo, 15% Vespolina – wow!
2008 G.D Vajra Barolo Ceretta Luigi Baudana – this wine comes from the a specific plot in the vineyard, called Baudana. This was a wow wine, but the next one was one level up, as it had an age on it
2004 G.D Vajra Barolo Ceretta Luigi Baudana – OMG
2008 Schiavenza Barolo Prapo – perfect fruit, open, beautiful, wow!
2009 Vietty Barbera d'Asti Superiore Nizza La Crena – excellent
2006 Massolino Barolo Villa Rionda Riserva – wow!
2010 Villa Sparina Gavi del Commune di Gavi Monterotondo – very nice
2008 Marchesi di Barolo Barolo Sarmassa – nice, round, perfect!
2006 Elvio Cogno Barolo Vigna Elena Riserva – excellent!
SARDINIA
2009 Cantina di Santandi Carignano del Sulcis Superiore Rocca Rubia Riserva - aged for 24 month in oak, excellent.
2009 6Mura Carignano del Sulcis – 120 years old vines, growing on sandy soils, very good balance, excellent.
SICILY
2010 Pietradolce Etna Rosso Archineri – very green
2010 Pietradolce Vigna Barbagalli – nice
2010 Donnafugata Ben Ryé Passito di Pantelleria – the only wine in Italy to receive top awards from all wine publications! Apricots on the nose and palate, perfectly balanced. Overall – wow and OMG!
2010 Tenute Rapitala Conte Hugues Bernard de la Gatinais Grand Cru – 100% Chardonnay, excellent, clean
2010 Firriato Ribeca Perricone – excellent! ( and the rare grape called Perricone)
TRENTINO
2006 Ferrari Trento Extra Brut Perle Nero – outstanding, off brut
2002 Ferrari Trento Brut Giulio Ferrari Riserva del Fondatore – 10 years aging on the lees, wow!
TUSCANY
2008 Famiglia Cecchi Chianti Classico Villa Cerna Riserva – very nice
2009 Famiglia Cecchi Coevo – wow!
2009 Tolani Picconero – 65% Merlot, perfectly Bordeaux in style, excellent!
2007 Poggio di Sotto Brunello di Montalcino – open, fresh, clean – wow!
2009 Poliziano Vino Nobile di Montepulciano – tannins! very good.
2009 Brancaia Chianti Classico Riserva – perfect balance, wow!
2010 Tenuta San Guido Montessu Isola dei Nuraghi – excellent!
2009 Tenuta Sette Ponti Orma Toscana – OMG! depth and breadth of this wine was phenomenal
2010 Marchesi Antinori Cervaro della Sala – perfect chardonnay, outstanding!
VENETO
2010 Ottello Lugana Supweriore Molceo – parfumy, perfect!
2010 Ottello Campo Sireso – a blend of Cabernet Sauvignon, Merlot, Corvina and Lagrein– roasted notes, wow!
2009 Roccolo Grassi Valpolicella Superiore Roccolo Grassi -very nice
2007 Vignalta Colli Euganei Rosso Gemola – Merlot/Cabernet Franc blend, classic Bordeaux profile, wow!
2005 Cantina Valpolicalla Negrar Amarone della Valpolicella Classico Villa Domini Veneti– pure chocolate on the nose, a bit too sweet and too tannic on the palate. Just ok (I know, I promised that there will be no ok or lesser wines – but I'm Amarone junkie, you will have to excuse me for that…)
2007 Tedeschi Amarone della Valpolicella Classico Capitel Monte Olmi – 16% ABV, alcohol on the nose – not "yack", but not good [at all]
2008 Tedeschi Amarone della Valpolicella Classico – very good
2006 Masi Amarone della Valpolicella Mazzano – 120 days of drying the grapes, good overall (not great), too much alcohol on the nose and palate
2008 Viticoltori Speri Amarone della Valpolicella Classico Monte Sant'Urbano – 15% ABV; wow!
Via
Mariano Pallottini