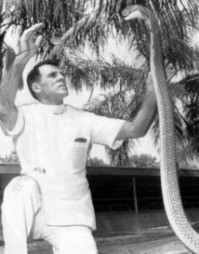 Most of us don't greet Mondays with TGIM (Thank goodness it's Monday!). I believe that's because our careers chose us, instead of vice versa. There are a few, however, like Miami Serpentarium's founder, Bill Haast, whose play–his pleasure–was his work. He could hardly wait for any day of the week to begin.
Those days ended, however, in June. He was 100, the landmark he had hoped to reach to demonstrate the efficacy of a weekly injection of snake venom. Perhaps, though, it was Haast's passion to unlock venom's secrets that fueled his drive to tackle such an unforgiving vocation, rather than the venom itself.
I met Haast in 1965, as the newest Serpentarium tour guide employed by his second wife, Clarita. His two daughters, Naia Hannah (a king cobra's scientific name) and Shantih (East Indian for peace) spent a lot of time with me, since we were all near the same age....