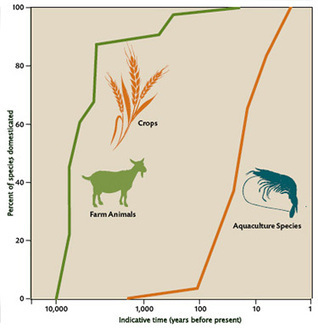 Aquaculture and capture fisheries production make vital contributions to global food security and provide important livelihood opportunities and income for many subsistence fishing and farming families. The world's wealth of fish genetic resources provides great potential to enable the aquaculture and fisheries sector to further enhance its contribution to food security and meet future challenges in feeding a growing human population. Yet, despite estimates that an additional 40 million tonnes of fish per year will be required to meet global demand by 2030, the opportunities that fish genetic diversity has to offer remain largely unrealized and unexplored.
Capture fisheries: Maintaining aquatic biodiversity, including fish genetic diversity, in capture fisheries is fundamental to guaranteeing the productivity of fish stocks, their resilience and their adaptability to environmental change.
Production of marine capture fisheries has increased to the extent that there is no room for further expansion, with more than 50 percent of the world's marine fish stocks fully exploited, 17 percent overexploited and 8 percent depleted or recovering from overuse.Production of inland water fisheries is often affected by heavy fishing but, more importantly, by the effect of environmental degradation and modification of river basins, which affect fish production potential and biodiversity. The Millennium Ecosystem Assessment found some 20 percent of the world's freshwater fish species have been listed as threatened, endangered or extinct, in just the last few decades.
Via
Perendale Publishers (Tuti Tan)