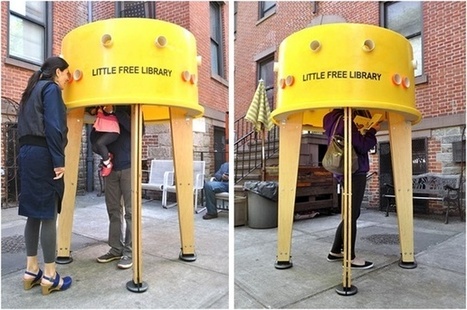 The "inhabitable" library looks more like a weird robot or a doughnut on stilts.
The curious reading hovel is the work of Stereotank, a design collaboration between Venezuelan architects Marcelo Ertorteguy and Sara Valente, who were responsible for last summer's bicycle-powered musical whirligig on Astor Place.
The couple built the library at the invitation of the Architectural League of New York and the organizers of the PEN World Voices Festival of International Literature. It is one of 10 mini-libraries now scattered in the 'hoods below 8th Street, which will serve printed words to the public until they disappear in September.
In the tradition of the Little Free Library movement, started by a pair of Wisconsinites in 2009, the books are provided by members of the community and you're kind of expected to put one in if you take one out.
More photos here: http://www.theatlanticcities.com/design/2013/05/worlds-tiniest-library-pops-new-york-city/5742/