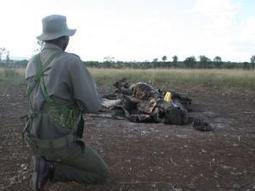 The stench of death and rotting meat fills the air as wildlife crime investigators cut, probe and sift through the tattered remains of yet another rhino carcass in the Kruger National Park.
They are looking for clues to who shot the latest victim of SA's escalating rhino wars.
The cause of death is no mystery, of course.
It was shot by poachers who hacked off the animal's horns before hot-footing it back over the border to Mozambique with their bloody prize.
This was the 95th rhino to be killed in the opening months of 2012 in SA's flagship national park. Nationwide at least 159 rhinos have died over the same period, and by December the toll is likely to be well above 600 for the year....