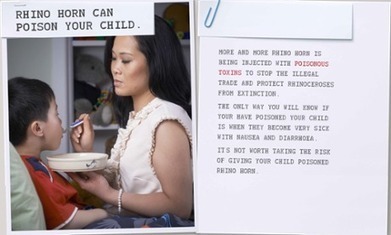 Businesswoman raises funds to place warning ads in Vietnamese magazines and newspapers...
Lynn Johnson, who has no background in wildlife conservation, has raised $20,000 to place the ads in prominent Vietnamese magazines and newspapers.
The ads depart from standard conservation strategy by not playing to people's empathy for endangered species. Instead, they warn Vietnamese that they may risk scuppering a business deal, or even harm their children, by giving them tainted rhino horn....
"The use of rhino horn in Vietnam is more symbolic than for medical purposes," she told Guardian Australia. "It's given either as a gift to negotiate business deals or to show that you have a high status in the community.
"People aren't worried about the cost of it and they don't have an affinity for the plight of the rhinos. But we found out they would be worried if the rhino horn had a harmful effect to those they gave it to."