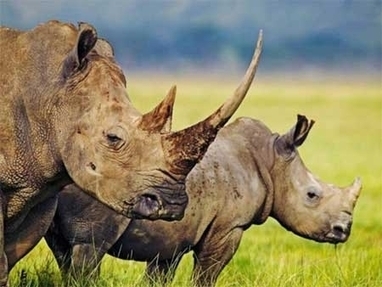 VietNamNet Bridge – One of Viet Nam's leading conservationists has
blamed the study "Rhino horn consumers, who are they?...
At a Ha Noi meeting held last Friday, Do Quang Tung, Director of the Viet Nam Convention on International Trade in Endangered Species of Wild Fauna and Flora (CITES) Management Authority, said the report contained inexact information causing serious misconceptions about Vietnamese agencies' efforts to reduce rhino horn consumption and worsening Viet Nam's global image.
After the report's release, international newspapers featured dozens of articles reporting that 16 per cent of Vietnamese wanted to buy or consume rhino horn if they could, sparking a wave of international anger against Viet Nam.
Tung added that the study only surveyed 720 individuals in Ha Noi and HCM City, but concluded that "demand for rhino as a luxury purchase by upper-middle class citizens in Viet Nam, including professional businessmen, celebrities and Government officials, has been identified as the strongest driver of the current rhino poaching crisis."...