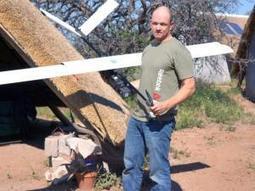 Cape Town - South Africa has been introduced to a potential new weapon in its war against rampant rhino poaching: an unmanned drone similar to those used by the US military against the Taliban in Afghanistan.
But unlike the military version that typically unleashes deadly fire on its target, this drone sends only images from its high-resolution cameras, and GPS positions, that can be used by a ground-based anti-poaching unit to home in on suspected poachers.
Last week, the makers of the Falcon drone – more correctly, the unmanned aerial vehicle or UAV – put the machine through its paces for an audience at the OIifants West conservancy that borders the Kruger National Park in Limpopo and that forms part of the unfenced Greater Kruger National Park....
http://www.iol.co.za/scitech/science/environment/drones-to-help-fight-in-anti-poaching-war-1.1526137#.UazRn0DVCSo