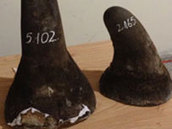 Ho Chi Minh City customs officials have seized more than seven kilograms of rhino horns amidst international pressure on the country to crank up its efforts to crack down on the illegal trade.
The officials found the two horns, weighing 7.28 kilograms, wrapped in silver paper and hidden in the luggage of a passenger identified only as 34-year-old N.D.D, who arrived in HCMC on a flight from Doha late Saturday.
The horns were presumably sourced from Africa, the officials said.
D. has been detained pending further investigations, the police said, without elaborating.....