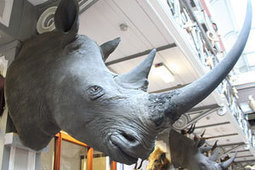 THE gang suspected of stealing four rhino heads from a museum have sunk to a sickening new low.
The Irish Sun can reveal the mob are now preying on frail pensioners by posing as furniture salesmen.
Placing fake magnetic signs on the sides of their van, they operate by calling to the homes of senior citizens offering to sell sofas and other household items.
But even if a pensioner refuses the offer, the thugs often force their way into the property, remove the furniture and replace it with items from their van.
The hoods then return to the pensioner demanding huge sums of cash for the dodgy settees....


Read more: http://www.thesun.co.uk/sol/homepage/feeds/smartphone/ireland/4907015/Vile-rhino-thugs-swindling-OAPS.html#ixzz2RrXyKpn8