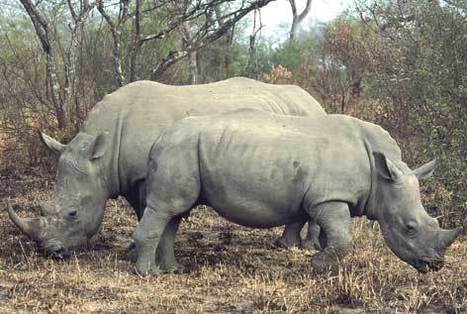 An appeal for communities on the borders of Kruger National Park to supply information about rhino poaching paid off at the weekend when a joint police operation saw a suspect killed, another wounded and two arrested.
This brings the number of suspects arrested in connection with charges pertaining to various links of the rhino poaching chain this year to 214. The province where the largest number of arrests have been made is Mpumalanga, which Kruger straddles.
"Members of the Hawks and the police task force were acting on intelligence when they came across a gang of four in the Sabi Sand private game reserve at the weekend headed in the direction of Skukuza in the Kruger National Park," spokesperson Capt Pail Ramaloko said.
"The joint police team confronted the four men, one of who immediately opened fire with a .375 rifle. The police returned fire killing one of the suspected poachers and wounding another before the remaining two were taken into custody."
The rifle, an axe and saw apparently intended to remove horns from any rhino they would have managed to kill were confiscated as well as a vehicle. The wounded suspect is under heavy police guard in hospital, which could not be named for "security reasons". All three face charges of attempted murder and possession of dangerous weapons. Further investigation and questioning is under way in an attempt to link them to other rhino poaching incidents.
In April, members of the Matsulu community close to Kruger's Malelane gate showed their willingness to be part of anti-poaching efforts. They identified a suspected poacher and notified Kruger personnel. While waiting for a helicopter to arrive the suspect made a getaway attempt which was thwarted by locals.
"Matsulu people told us they were 'sick and tired' of this type of criminal activity happening in and around their community and were only too happy to have aided in a successful arrest," Kruger spokesperson William Mabasa said at the time.
Since then, Kruger officials have been in contact with a number of communities and villages on the park's western border spreading the anti-poaching message and urging people to supply information to police and the park. – 701176