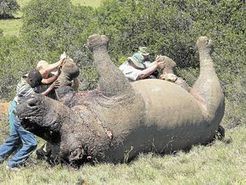 FLIES buzz around a hulking pile of flesh with its eyes gouged out and its horns hacked out, lying rotting in the Kruger National Park in the opening scenes of a shocking new documentary on rhino poaching.
A series of still-photos of other gruesome kills flash across the screen in Rhino Under Threat, a deeply disturbing 28-minute film available on YouTube that has been made to drive home the horror of the rhino poaching crisis.
The film debuted on Monday at the Rio+20 global environment conference in Rio de Janeiro in Brazil.
South Africa, home to the vast majority of the planet's rhinos, is at the epicentre of the unfolding tragedy....