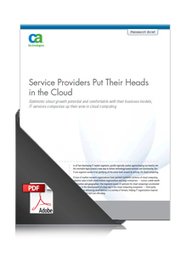 Cloud computing is rapidly transforming the way enterprises use technology.
As a result, enterprises will steadily increase their consumption of cloud-based services and, conversely, decrease their reliance on legacy on-premise technologies.
Were you aware that service providers have choices for how they will adopt and deliver cloud services?
CA Technologies has crafted cloud-computing strategy with the only end-to-end cloud management portfolio.
Download "Multiple Paths to Cloud Computing " which will show you that this cloud-computing strategy consists of the resources needed to make a service providers' cloud-computing practice a reality.