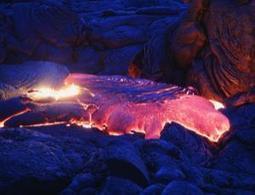 The mass extinction that wiped out the dinosaurs 65 million years ago was almost unprecedented in its size. There may be a simple reason why three-quarters of Earth's species disappeared during the event – there were actually two extinctions at the end of the Cretaceous, each devastating species in distinct environments. Famously, the dinosaurs met their end when a massive meteorite crashed into Mexico's Yucatán Peninsula around 65 million years ago. The extinction paved the way for the rapid evolutionary diversification of mammals.
Tom Tobin from the University of Washington in Seattle found two layers in the rocks, which formed in a shallow sea, where several species of shelled animals went extinct. One of the layers dates to the time of the impact, but the other layer is 40 metres below. Dating showed that the lower extinction occurred some 150,000 years before the meteorite hit – at the peak of the Indian eruptions. Tobin's team looked at isotopic ratios in the rock to work out the temperatures at the time: the first extinction followed a 7 °C rise in polar ocean temperatures – probably a result of global warming triggered by the Indian volcanism. Comparable numbers of species in the region went extinct in each event. Surprisingly, though, the types of animals affected differed strikingly.
The case for multiple factors contributing to the extinction is adding up, says David Archibald, a vertebrate palaeontologist recently retired from San Diego State University, California, who was not involved in either study. "I'm not suggesting the [meteorite] impact didn't have tremendous effects, and it probably was necessary for the extinctions, but there were other things leading up to it," he says.
Via
Dr. Stefan Gruenwald