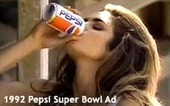 Celebrity Ads Get Big Views Online - 02/03/2012...
"Lee Garfinkel, chief creative officer of global brands at Euro RSCG Worldwide, knows the drill. When he was at BBDO, he penned the Pepsi ad starring supermodel Cindy Crawford that ended up rated as one of the best ads of the 1992 Super Bowl and one of the best-ever Pepsi spots.
He tells Marketing Daily that the key is content and concept. "Without that, putting a celebrity in an ad is a recipe for disaster," he says. In his famous Pepsi spot, Crawford drives into a gas station in a Ferrari and strolls over to a machine, drops a coin and gets a can of Pepsi. As she drinks it lustily, a couple of farm kids lean on a fence dumbstruck with admiration ... for Pepsi's redesigned can. "But the same year, Michael Jordan was in the Bugs Bunny ad, which put us at number two. Both were great conceptual ways of using celebrities," he says."
Read more: http://www.mediapost.com/publications/article/167020/celebrity-ads-get-big-views-online.html?edition=42973#ixzz1lLMTNlY1
Via
k3hamilton