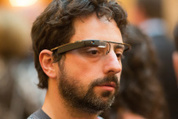 Many of the first apps for Google Glass will be about consuming and sharing content on the go. But what if Google Glass could unlock control over the world of the Internet of Things both inside and outside the home?
"Picture arriving home from work, and the door of your house automatically unlocks to let you in as you walk up to it. Inside, your NPR app comes on the glasses screen and you can tune in or change the channel while you fiddle with turning on the connected sprinkler system for your lawn. Your Nest thermostat app then pops up on your Google Glass screen to let you know that you've been good this week and saved a lot of energy, but with a wink you override the conservation mode and crank up the heat.
The scenario isn't as crazy as it sounds and all the basic technology is there. There are mobile apps that already do all of these things. Essentially you'd just be moving the control function from the cell phone touch screen and your fingertips to the screen in front of your eye and either a facial gesture or hand movement. All devices in the home that would benefit from having connectivity and control are getting it, and there will be a variety of remotes that will control them — why not one on your face?"