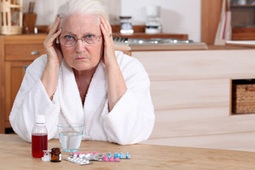 About half of all medication prescribed in the United States is not taken as directed. Some have proposed stomach acid-activated microchips. CleverCap is a less sci-fi fix: a cap that fits on standard pill bottles.
It includes an alarm that tells patients when it's time to take their medications and it only dispenses the prescribed amount. The device connects to the Internet to allow doctors and pharmaceuticals to monitor patients' compliance. It connects via a mobile device or a Qualcomm Life hub called 2Net.
"[M]edication adherence information is more valuable for clinical and research purposes when analyzed in the context of synchronized remote-monitored vital signs," said Moses Zonana, CEO of Compliance Meds.
While connected medical devices are popping up nearly by the day, no one knows how they will end up communicating with one another and with doctors and patients. That's why 2Net scoops up with Wi-Fi and cellular data and offers a home hub and a mobile app software development kit, or SDK.