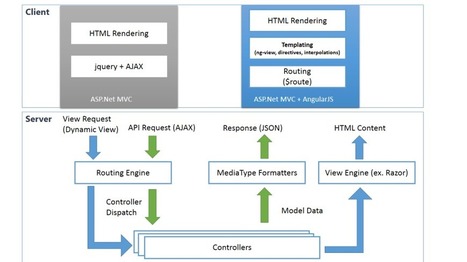 Once AngularJS is in place it intercepts all the url navigation requests (<a> tags) and stops the browser form full page refresh. How it happens is

It starts with user navigating to the app home(such as http://localhost/home). This is a standard HTML request which gets data from a server view.The browser then loads the necessary html and scripts and sets up the AngularJS configuration.AngularJS navigation ($location service) kicks in and hence forth the only requests that are send are to load partial views into a specific page section (ng-view or ng-include).
Keeping this in mind we start setting up the view.
Via
William delmas