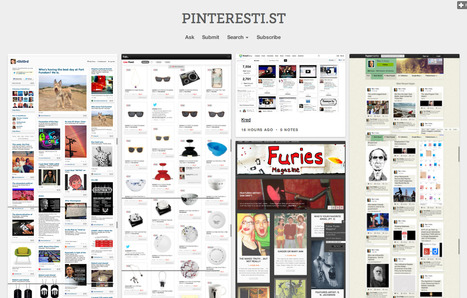 "If imitation is the sincerest form of flattery the founders of Pinterest must be blushing their asses off."

This is an interesting post by Erin Griffith on Pandodaily. Not just because she lists a number of interesting companies using a Pinterest-like design.
She makes a great point: just like Twitter and RSS (or is it email?) gave a stream-like design which spread to many apps, the column-based design (that Scoop.it also has - though in a larger format and actually before we had any idea of a site called Pinterest - there I said it!) is a great fit for content consumption.
This is something we've observed from our early days of developing content apps: Goojet - the previous mobile product that our team worked on before Scoop.it - had a stream-based design. We weren't happy with it and as we moved to the Web, we looked for a format that would help users quickly scan for the content they wanted on a curated page. The magazine format we came out with (kudos to our designer Thierry!) actually built on something very natural: what the human eye has been taught to read in decades of press magazine.
More fundamentally, it tells us Curation is not just a matter of substance: the format is important too. Museums show us that by the way they neatly layout paintings, highlight them beautifully and often are beautifully architectured themselves.
Image is a screenshot of http://pinteresti.st by http://www.roblord.org who had the idea of doing a Pinterest-like site of Pinterest-like sites ;-)