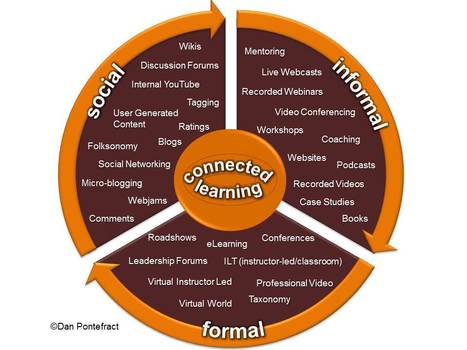 Going forward, and as best I can, I'll use the term 'Connected Learning' to describe a knowledge ecosystem made up of formal, informal and social learning...
***
"If 'Connected Learning' is part formal, part informal and part social, there will always be the act of 'connecting' one's self to people, content, systems, networks, etc. during the learning process itself … and it may occur through several mediums.
***
Formal: a self-contained & scheduled learning event, typically but not always tracked, providing a comprehensive and at times logical or sequential approach to a topic.
***
Informal: an opportunity without conventionalism, atypical to formal learning, providing guidance, expertise or acumen on the go.
***
Social: an exchange of ideas, knowledge or information typically characterized by friendly interaction through online services that provides supplemental understanding often via personal & professional networks.
***
'Connected Learning' leans heavily on Socratic Learning as well:
Socratic learning is based on the idea that human beings have faculties that can be awakened through questioning, exploration, collaboration and self or cross examination."
***
"Whatever we need to learn, it will always start with a connection. How we fill the need may be one singular modality, or it may be a combination of formal, informal and social means. The aforementioned modalities are also and ultimately connected to each other too."