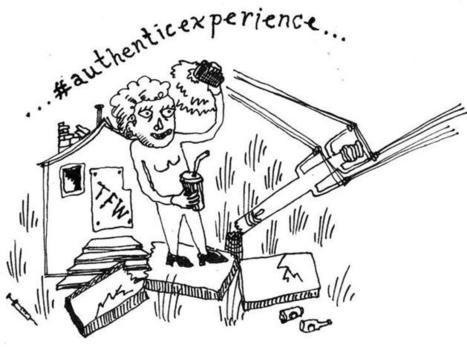 Interesting article, (dystopia?), and even more interesting comments. Must read if the sharing economy interests you. Excerpts.
***
"Where does this change of culture originate? It is the normalization of New Orleans, and like most changes, it is driven by money. Things uncomfortable or unfamiliar to tourists are forced into cultural conformity. King Tourist must be accommodated."
***
"In the Go model, tourists who would formerly be limited to tourist neighborhoods are parachuted into New Orleans willy-nilly. These tourists, who bring with them expectations and culture from elsewhere in America, are moving along lines not of physical geography but of technology and culture. Picking a place to stay in an area they know nothing about, they are reassured by the smiling faces of others who resemble them on the Airbnb website. "These hosts look like nice people. Look, this couple who wear the same brands of clothing as us recommended them. Oh honey, shall we? Let's get a taste of the real New Orleans."
***
The visual dissonance this creates, the experience of seeing visibly affluent white couples on matching bicycles toodling around the bombed-out reaches of St. Roch, is an example of the digital age's vaunted techie "disruption." It's the sudden and apparently anomalous arrival of things that have no bearing on what came before, new things not rooted in any recognizable local context. An entity that made sense in an older shared conception of the neighborhood—a family home, an ironworks, a church or corner store—is replaced with something bizarre: a studio offering a bodywork discipline no one who lived there pre-Katrina has heard of, a rarely-open gallery of off-putting art, or a restaurant serving contrived and regionally unfamiliar foods.
But these goods and services aren't unfamiliar to their intended market. These strange new businesses in old buildings are toeholds for an emerging stratum whose "community" and tastes are built trans-geographically, through a version of "culture" that exists largely online.
To be clear, this fracturing of historical and cultural continuity is a tendency that operates in both the two- and three-dimensional models of takeover. "
More and more people we know in New Orleans make money through Airbnb, a website that allows tourists to arrange short-term stays in private homes. I wash towels for a living now, says one friend, a w